Rafael Nadal has admitted he is feeling vulnerable ahead of his first round match against Great Britain's Jack Draper at the Australian Open.
The defending champion goes into the Grand Slam on the worst run in his career, having lost six out of seven matches since the US Open.
"Without a doubt. I have been losing more than usual, so that's part of the business," he said.
"I think I am humble enough to accept that situation and just work with what I have today. I need to build again all this momentum. I need to build again this confidence with myself with victories."
Ordinarily, a first-round tie against a 21-year-old who is just starting his first full year on the ATP Tour would make Nadal clear favourite, but it is a measure of Draper's progress that he is considered a tricky draw for the Spaniard, who is seeded number one with Carlos Alcaraz out injured.
Novak Djokovic and Rafael Nadal continue their preparations for the Australian Open next month

Draper has climbed more than 200 places in the rankings and arrives in Melbourne in good form, with a run to the semi-finals of the Adelaide International under his belt.
"It's probably one of the toughest first rounds possible, being seeded. He's young, powerful, growing very, very fast on the rankings, playing well.
"It's a big challenge for me at the beginning to start the tournament. I'm here to just give myself a chance. I know he's playing well. He has a lot of positive things, and probably a great career in front. I hope to be ready to fight for that first round and let's see what can happen."
Nadal began this year with two defeats at the ATP Cup against Draper's countryman Cameron Norrie and Australia's Alex de Minaur.
Britain's Jack Draper reached the semi-finals of the Adelaide International with a straight sets win over Karen Khachanov

Murray 'in a much better place' for Australian Open
Andy Murray says he is ready to make a statement at the Australian Open, as he prepares to face Matteo Berrettini on Tuesday.
The former world No 1 has been handed a tough draw against the Wimbledon finalist. The Italian reached the semi-finals at Melbourne last year but Murray thinks he has a good chance of causing an upset.
"Obviously it's a tough draw. But I also feel like I'm in a much better place than where I was during any of the Slams last year coming into it," he said.
"I feel well prepared, I feel ready to play a top player early in the event, whereas maybe last year at times my game didn't feel that great and getting a difficult draw, a tough match early in the tournament, didn't felt great."
Murray's hip held up well last year and he did not have any major injury absences but he also didn't achieve the results or play the tennis he was hoping for.
He struggled with cramp issues during the second half of the season, admitting he had let his fitness slide.
The former Wimbledon champion spent the pre-season on a training camp in the US with Ivan Lendl and despite losing his only competitive warm-up match against Sebastian Korda in Adelaide last week, he performed well at the exhibition tournament in Kooyong, beating young Australian De Minaur.
"A good period of practice gave me some time to work on some things and improve some things," said the 35-year-old.
"I got a lot of work done away from the court as well in the gym so physically and in the matches I have played, whether that was the matches in Kooyong or in Adelaide or when we played up in Scotland [at the Battle of the Brits last month], my movement and stuff was significantly better than what it would have been at this stage last year.
"When I move well, I tend to play well, and that's really important for me. That's probably been the thing I've been happiest about. The conditions are playing pretty fast here so it's even more important to be light on your feet."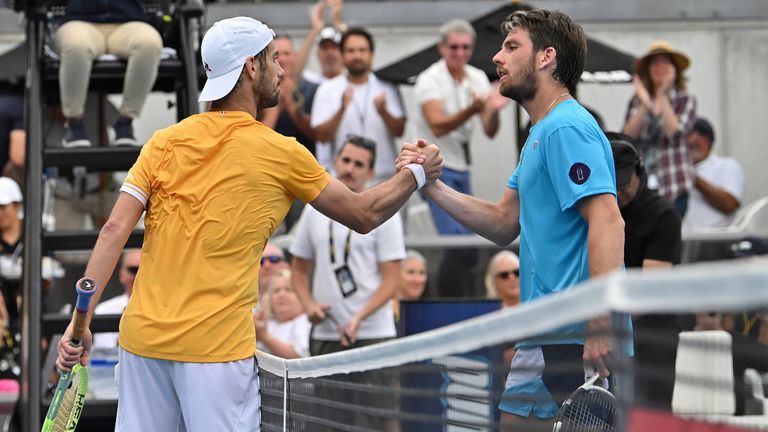 Norrie loses to Gasquet in Auckland
While Murray has dropped down the world and British rankings, Cameron Norrie holds the British hopes in Australia.
He will hope for a deep run at Melbourne Park and has had a good pre-Grand Slam build up. reaching the final of the Auckland Open.
The Brit performed well in the city in which he grew up only to be beaten in three sets by France's Richard Gasquet in Friday's final.
The world No 12 said after the match that the defeat "hurts" more than other losses but will now have to turn his focus to his first round match against Luca van Assche.
Holding back the tears during his on-court interview, Norrie said: "That one hurts. I wanted that one really bad.
"But all credit to Richard, you hung in there and played better than me. Definitely deserved it today. Well done.
"I have had an amazing week, coming to Auckland, the tournament where I grew up. I have a lot of friends and family here, everyone supporting me, which has been great.
"I really wanted to win the title. This changes nothing, it makes me more hungry and hopefully I can be back and get the title next year."
Norrie, who is seeded 11th at Melbourne, will play young French wild card Luca Van Assche in the first round.
Novak Djokovic got advice from a spectator before going on to win the point in an exhibition match against Nick Kyrgios in Melbourne

Kyrigos on friendship with Djokovic
Ahead of the tournament, Nick Kyrigos faced Novak Djokovic in front of a sell-out crowd for a warm-up.
Kyrigos and Djokovic have build a close relationship off the court, and the Australian spoke about reaching out to the Serbian last year, when he was barred from taking part at Melbourne Park due to his Covid vaccination status.
"The challenge that he faced a year ago with the whole COVID situation, no one really stood up for him and that was a real life moment where the people that actually care about your wellbeing stand up for you and I did that," he said.
Nick Kyrgios says he has a new found friendship with Novak Djokovic after speaking up in support of the Serbian during his deportation from Australia last year

"I felt like it was necessary. That was more important than what I had said or done previously. I went against my words and stood up for him in front of my country. That wasn't easy for me either.
"I dealt with a lot of criticism. It's gone from a rough place to now, we are helping each other out on the biggest stage. We are just great competitors. To think that I am able to do that is cool.
"My relationship with the big three is very different. I am very close to Novak now, quite close to Roger [Federer] and me and Rafa just do that (nods head) when we walk past each other."